17:00

-

23:00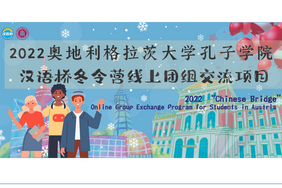 The Confucius Institute at the University of Graz will organize "2023 Chinese Bridge" Online Winter Camp in collaboration with the East China Normal University (ECNU). The courses will be free of charge and consist of a series of recorded courses and online live Chinese course. The students attending live courses will be divided into different classes according to their Chinese language level.Course details are as follows.
Course contents
1. Online live Chinese course
There will be 7 hours of live Chinese courses with the themes of leisure life, shopping, food, culture, entertainment, travel and transportation.
2. Recorded courses concerning Chinese culture
There are 10 recorded courses on Chinese culture, with about 25 minutes for each session, more than 200 minutes in total. The topics of these courses include Shanghai Centre, Chinese cuisine in university Campus, Chinese Leisure time activities, Chinese Kung Fu, Chinese Movie, Shopping, the history of Chinese Tea, Shadow Play(Pi Ying Drama), Traditional Chinese Games and places of interests in China.
Course Numbers and Classes
The Chinese Bridge Winter Camp is open to Chinese language learners from the Confucius Institute at the University of Graz in Austria and other external participators are also welcomed to register the course for free. Classes will be divided according to the level of the students. The number of students in each class will be limited to 20-25.
Requirement for obtaining a certificate
1. Live Classes.
a) Attend live classes on time, actively participate in class interactions and attend at least 80% of the courses.
b) Complete and submit one assignment according to the tasks set by the teacher of the class.
2. Recorded Classes.
Follow the instructions, apply and Use your Chinese Bridge account and password to log in to the group page and complete the 10 recorded lessons. The progress of each session should reach 100%.
Course registration and deadline
Interested students may write an email to konfuzius(at)uni-graz.at with your name, gender, nationality, email address, current Chinese level or HSK level (when possible) before 25.1.2023. Your personal data will be strictly and carefully handled according to Austrian and Chinese law. It will only be used by the lecturer for taking attendance and to know your learning situation better. It will never be leaked to other people or organization.
Date
Course time
Course contents
Courses'

category

Course type
Course session
Self-study, flexible time.

(Note: It is recommended that students complete recorded courses prior to the live online ones, with the requirement for prior knowledge and targeted exercises from the Live online course.)

上海中心

Shanghai Centre

Cultural

Courses

Recorded

Courses

1
买东西

Shopping

1
校园风味之旅

Chinese cuisine in university Campus

1
茶的前世今生

the history of Chinese Tea

1
中国电影

Chinese Movie

1
皮影戏

Shadow Play (Pi Ying Drama)

1
中国传统游戏

Traditional Chinese Games

1
当代中国休闲生活

Chinese Leisure time activities

1
中国功夫

Chinese Kung Fu

1
行在中国

Places of interests in China

1
30.1.2023
9:30-11:00AM
综合课(休闲与购物)

Leisure time and shopping

Language courses
Live online

course

2
31.1.2023
9:30-11:00AM
综合课(饮食文化)

Cuisine culture

2
1.2.2023
9:30-11:00AM
综合课(娱乐方式)

Entertainment and games

2
2.2.2023
9:30-11:00AM
综合课(交通出行)

Travel and transportation

2
3.2.2023
9:30-11:00AM
综合课(健康生活)

Healthy life

2
The time given in the form is Austrian time, i.e. Central European Time (UTC+1)